History of the Lloydminster and District Fish and Game Association Inc.
Compiled and Written By Larry Chambers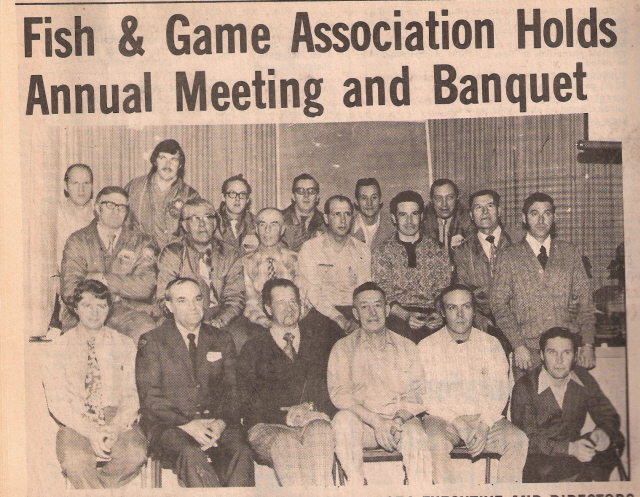 Unfortunately all documentation for the direct history of Lloydminster & District Fish & Game Association was lost in a house fire in 1963, when the home of Keith DeLeew, and all the previous club records went up in smoke. The next best source of information was J. A. (Archie) Miller, who was with the club from the beginning but he passed away before work on this history began. Newspaper articles from the Lloydminster Archives have been consulted and we do have some members who remember some of the early days of the club. Not withstanding this, it must be realized that most of the real history and stories have been omitted because they are gone forever. For more recent history, the club's scrapbooks have documented some of the activities since the early 70's.
Archie Miller related that the club started out in 1927, as the Lloydminster Gun Club, under the presidency of J. W. (Jack) Swift; Jack Lister, secretary; and Archie Miller, treasurer; with Dr. Lindley, Alan Young, Joe Greupner, and Fred Dunstan as directors. The club was a group of sportsmen who were interested in perpetuating adequate stocks of fish and wildlife so that they may be readily available for the use and enjoyment of all people for generations to come. Jack continued to lead the club for at least 20 years, and even though times were lean in the 30's, membership and activities were continuous and therefore interest and dedication to the ideals of the club prospered.
Although the original members were all keen, competitive shooters, they also were active conservationists. According to newspaper reports, a group of them within the Lloydminster Gun Club organized a club in the spring of 1936 called the Gun and Crow Club to organize an eradication of such pests as crows and magpies. As incentive, a prize of a box of shot shells was put up for the first member to get 100 "points". Mr. Guy Powers of Greenstreet won the shells with 130 points by April 22. Evidence of variations of this kind of pest control exists until 1974 with the club at the end paying out 15 cents per whole bird turned in.
One colorful figure who had a lot to do with maintaining this program so long was Joe Greupner, affectionately known as "The Crow Man". It seems that it was with great vengeance that Joe hunted crows. He was a great crow hunter, and it was largely at Joe's insistence that the club had a very strong and successful crow control program. Joe put up a "handsome shield" for annual competition to be awarded to the individual who shot the most crows. Thousands of birds were removed through the years and presumably benefited the game and song bird populations.
Coyote drives were also popular in the late 40's to early 60's. Dozens of men would walk through bush and ravines, where coyotes were thought to inhabit, toward shooters posted at the end. This method didn't remove as many coyotes as the poisoning programs but avoided some of the controversial issues. This was illustrated on the night that A. B. (Alex) Tingley who raised sheep and W. A. (Slim) Thorpe locked horns in the old Royal Café which was our meeting place for many years. Alex was suffering losses of sheep to the coyotes, and he was all in favor of getting rid of as many coyotes as possible, including poisoning them. Slim wasn't so sure that was such a good idea because of the cruelty of it; the unintentional poisoning of non-target species; and the elimination of one of the best pest control officers in nature.
By 1947 it is clear that the name had become the Lloydminster & District Fish & Game League where they affiliated with both the Saskatchewan Fish and Game League and the Alberta Fish and Game Association. For many years, the club had a town executive and a country executive which consisted of representatives from the communities that the club served.
Our border location always necessitated affiliating with both provinces. When it comes to donating to provincial programs such as the youth programs and camps, the hide programs, and the provincial habitat lands programs, we have always tried to divide our funds equally between the 2 provinces. Sometimes this makes it looks like we donate less to these programs than our size would indicate, but it must be realized that we are actually donating double the amount indicated for any one province.
Our minutes show that by Nov 12, 1969, the burden of affiliating to both provinces was becoming too high. A motion passed that we pursue with each province affiliating our members at half their normal affiliation fee, rather than affiliating them with only one or the other provincial organization. By Dec 1969, it was reported that this plan had been adopted by both Saskatchewan Wildlife Federation and the Alberta Fish and Game Association.
In 1957 a splinter group, more interested in serious competitive shooting, separated from the club under the name of the Lloydminster Fish and Game League Gun Club. They were given a loan of $200 from the Lloyd Fish and Game League along with the trap and skeet equipment. They purchased six acres of land from Reg Salt south of the city and built a gun club field and club house. The following year, due to legal complications, their name was changed to the Lloydminster Gun Club. By 1960 they were holding registered shoots called the Interprovincial Shoot. This club is still very active and has produced some highly respected shooting champions. The remainder of the original club eventually became what is now known as the Lloydminster and District Fish and Game Association.
It is interesting to note that a Northeast Prairies Regional meeting was held at Lloydminster on Nov 5, 1966 with Ben Rosenau as acting chairman. The attending associations were from Bruderheim, Cold Lake, Lloydminster, Mundare, Round Hill, St. Paul, and Waskatenau. Mr. Rosenau introduced the tentative map for zoning the Alberta Fish and Game Association into six zones. It was decided to meet again at Cold Lake in 1967.
Many directors served faithfully on the executive for years, and to make a list would be impossible without omitting many people who made important contributions, but some who were often remembered from the early years were: Roger Jones, Alan Young, Les Foote, Les Leer, Art Nicholson, Gordon Davidson, Desmond Evans, A. B. (Alex) Tingley, W. A. (Slim) Thorpe, Dave McGladdery, Joe Greupner, Fred Dunstan, Reg Dobson, Charlie Fisher, John Goodwin, H. Aston, Harry Anderson, D. Mark, Art Clemens, and Keith DeLeeuw
Long serving directors in more recent times who haven't been president or haven't been awarded life member status are: Wayne Burzinski, Gerald Johnson, Dean Hotchkiss, John Kerr, Gordon Davidson, Ab England, Adrien Beauvais, Bob Corpe, Jack Kienlen, Gunther Henglehaupt, and Jerry Russell.
Members and executive have conferred Life Membership Status to those who have given many years of dedicated service and have made significant contributions to the objectives of the club. They are – deceased: Archie Miller (also given a Life Membership to the Alberta Fish and Game Association and the Saskatchewan Wildlife Federation); Nick Fuchs, Howard Bygrove, Dave McGladdery, Les Leer, Gordon Garner, and Peter Dribnenky. Living Life Members are: Stan Daniel, Bill Luchinski, Gordon King, Frank Bexson, Larry Chambers, Norris Edwards, Lorne Topley, Walt Backer, and Rick Knight.
Our club has been fortunate to have had very dedicated leadership from the following presidents: J. W. (Jack) Swift (27– 47+?), Fred Wallace (62-63), Russ Drury (64-65), Al Jardine (66-67) , Keith Pawsey (68-69) , Peter Dobranski (70-71), Gordon King (72-73), Stan Daniel (74-75), Bill Luchinski (76-77), Larry Chambers (78, 99-2000), Gordon Garner (79), David Fisher (80-81), Kevin Mark (82), Jim Kenyon (83-84), Lorne Topley (85-86), Rick Knight (87-88), Norris Edwards(89-90-91), Lyle Gardiner (92-93), Eric Rounce (94-95), Bill Armstrong (96-97-98), Earl Kaye (01-02), Curly Hallan (03), Garry Cunningham (04-05), and Tyler Verabioff (06).
Our club has accomplished many significant conservation programs over the years. The Crow and Magpie Pest Control program already mentioned was probably the first. History shows that our club sold deer and moose hides with the proceeds going toward conservation programs long before there were any provincial programs in place. This is an on-going yearly program of the Lloydminster Branch with an average collection of approximately $1200/year.
We have done many projects over the years. We tried a pheasant stocking program for 10-15 years, including a large pheasant run, egg incubators, and the release of nesting birds in the spring, but we discontinued the program as a viable population failed to develop and we didn't want to just run a "put and take" program.
In 2005 we transplanted adult pike in Bear Lake to try to balance the stunted perch population. We won the J. D Munroe Hunting and Fishing Preservation Award and Best Branch Project for Saskatchewan in 2003 with our Walleye Micro-Rearing Pond Project. The objective of the project was to develop the methods and materials needed to inexpensively and significantly improve the survival rate of walleye larvae to a healthy fry stage up to 1". We have only been successful in releasing large numbers of fingerlings in 2 out of 5 years (at Peck and Little Fishing Lakes).
We have hosted 2 provincial conventions of the Saskatchewan Wildlife Federation – in 1986 (Norris Edwards – committee chair) and 1999 (Larry Chambers – committee chair).
Our club locally is maintaining duck nesting tubes, has purchased and loaned a trap net at a cost of $3600 to the fisheries biologists for studying fish populations (catch and release as opposed to netting and killing the fish), and are asking our members to help us find old school yards, old farmyard sites, abandoned rail lines, etc. that could be protected for habitat purposes. Our branch continues to contribute major funding to both provincial organizations for habitat projects and provincial youth programs
The club has constructed 2 very successful trout ponds available to the public along the Yellowhead Highway; one in Alberta and the other – complete with rest rooms, picnic shelter and a wheelchair-accessible fishing dock, in Saskatchewan. Both are now government stocked, but we have had to stock them our selves in the past
We have planted trees for habitat and food for wildlife at our trout ponds and our 80-acre recreation area where our ranges are located, and this year at the Gordon Leslie land donation. Stan Daniel was recognized for his efforts at the Gordon Leslie property, but it is his vision and organizational ability back in 1973-74 that brought our club the prestigious Guy Blake Memorial Trophy for the best conservation project in Alberta – the Kenilworth Goose Project.
This project was one of the first – if not the first – goose rearing project in Alberta. At that time goose populations were low and this project was conceived in late 1972 by the local Fish and Game Clubs of Lloydminster, Marwayne, and Vermilion. Mr. Bill Wishart, wildlife biologist with the Alta Dept. of Lands and Forest, provided the technical expertise and arranged the propagation permit from the Canadian Wildlife Service. Stan was a driving force in the project along with Gordon King of Lloydminster, Gerald Colton of Vermilion, and Mike Hamernyk of Marwayne. They headed an enthusiastic committee of volunteers to take on this huge undertaking.
Kenilworth Lake on highway 16, between Lloydminster and Vermilion was chosen as the site because it was a migratory bird refuge and thus closed to hunting in the fall. The goal of the project was the preservation and propagation of the Greater Canada Goose through the imprinting of the young geese to the general area so they would return for their reproduction. Mr. And Mrs. Lyle Anson (who became the custodians of the project) provided the necessary land for the 500′ x 500′ chain link fence enclosure. A reservoir was dredged out in the middle and a donated building was added for winter shelter. Husky Oil donated much of the pipe and sucker rod for the fence.
Mr. And Mrs. Bill Bowthorpe of Round Hill, Alta were expert at raising geese and offered advice as well as provided 10 giant Canadas as their gift to the project. These geese, along with 3 mated pairs, provided by Alta Fish and Wildlife soon multiplied such that today Canada Geese are probably one of our most important migratory game birds.
This project – along with the purchase and development of our family recreation area on 80 acres of scenic habitat that accommodated both the indoor and the Terry Mark Memorial 300 yard outdoor ranges – spurred membership during the70's. In fact, the Lloydminster and District Fish and Game Assoc. won the J. B Cunningham Trophy in 1973 for having the highest increase in membership sales in Alberta. Membership hit an all-time high of 993 in 1976. For the last 15 years, we have managed to maintain a membership of between 600 and 700.
Lloydminster Fish and Game member, Ab England, was honored by both the Alberta Fish and Game Assoc. and the Saskatchewan Wildlife Federation with Distinguished Service Awards in 2004 for his exemplary service as an official wildlife measurer. Ab has been measuring for us since 1981 and he has been keeping the Alberta records since 1986. In 2001, Ab was one of only two Canadian judges who sat on the North America Boone and Crockett Awards panel in Springfield, Missouri. He again sat on this panel in Kansas City in 2004.
Another provincial award was won this year when Larry Chambers was awarded the Alberta Fish and Game Distinguished Service Award and the Saskatchewan Wildlife Federation Gordon Lund Memorial Award for his many and continuous years of service to the ideals of conservation.
Over the years, hunter safety programs were always important to the Lloydminster Fish and Game Assoc. Literally thousands of students graduated from classes that were sponsored by the Club and provided by volunteer instructors such as Archie Miller, D. Mark, Ken Anderson, Brian Sheppard, Ralph Conlon, Gerald Johnson, Larry Chambers, Bill Luchyski, Dean Hotchkiss, Dale Forland, Eric Rounce, and Jack Kienlen.
Probably the best known and widely attended function of the Club is our Wildlife Supper and Awards Night. Newspapers of the day record that it started in 1936 as a "Father and Son" Banquet. It is likely that Archie Miller had a lot to do with initiating this event as he was very proud of it and fostered it as a tremendous tool to educate and involve the youth in hunting and fishing. From its inception, it has had crowds of 250-350 attend. For decades the club showed educational wildlife films to the youth while the annual meeting and elections went on upstairs. By the 70's it became the Family Wildlife Banquet where spouses and the whole family were encouraged to attend. This event continues today on the last Saturday of January and now involves fund-raising events such as raffles, silent auctions, and displays. The selling of corporate tables has increased attendance to 450 in the last 2 years. Originally only trophies for whitetail and mule deer were up for competition but for many years now we have had a full line up of big game, game bird, fish, and photography trophies available.
The Lloydminster & District Fish and Game Assoc. sponsors the Alberta Provincial Scenic Photography Trophy and the Saskatchewan Provincial Brook Trout Trophy.
Because we believe that our future is in our youth, we have been sending (since 1975) and continue to send students to summer camps. These camps help young people develop a better understanding of conservation, of the interdependence of humanity and the natural world, and the value of healthy populations of fish and wildlife. Students are sent to two camps – the camp in Prince Albert, and the Alberta Camp at Narrow Lake, all expenses paid. In recent years, we have organized a Youth Fun Day at the end of June. Young people are introduced to archery, the use of compasses, and camp skills.
We also started a scholarship program in 1986. Since then, over $15,000 have been awarded to students in our membership area. Up to two $750 scholarships are presented annually to post secondary students studying in the Conservation or Wildlife Management field – an investment in our future.
Since the first settlers arrived in the Lloydminster area more than one hundred years ago, habitat has continually been modified and much of it has been lost. Habitat is the key to wildlife survival. The urgent demand for the increases in food and energy has accelerated resource development programs and has jeopardized our fish and wildlife populations. The Lloydminster and District Fish and Game Association has as its mission statement: " The Association advocates for and assists in the conservation and management of fish, wildlife and habitat for the continuing benefit of association members and the general public." If we continue to work as hard in the next 100 years as we have in the last 100, we will continue to make a difference.