The LDFGA Outdoor Range will be closed on July 23 and part or all of July 24th  2018, to survey the area for preparation of the construction project that will enhance our range. The range will be open for use on July 24th & 25th and then be closed for the construction period starting on Friday July 27th. The range will then be closed for 7 to 10 days, depending on the weather and how the construction proceeds.
Note that the time Schedule can change at any time. Due to the various circumstances, so please check the LDFGA website for official opening and closures of the Outdoor range during this period.
During the period between the time of the surveying and the start of the construction, please do not touch any of survey stakes that are in place, as the cost of this project is high enough without having to pay to put these stakes back in the ground.
Thank you in advance
LDFGA Executive

Travel east on Highway 303 for 10.8 km to Range Rd 3265, turn left (north) and drive 2 km to Range Rd 3264A, turn left (north again) and drive 100 m, then turn right (east). Range is located on your left side. Outdoor Range is located on the lower west portion. The outdoor range is 80 acres next to Gully Park. There is a 25m, 50m, 100m 200m and 300m range available. Due to safety reasons, there is no hunting on the premises. You need a Fish and Game Membership and an Outdoor Range Membership to use this range. For more information or to volunteer, please call Reid Ballek at (306) 821-2859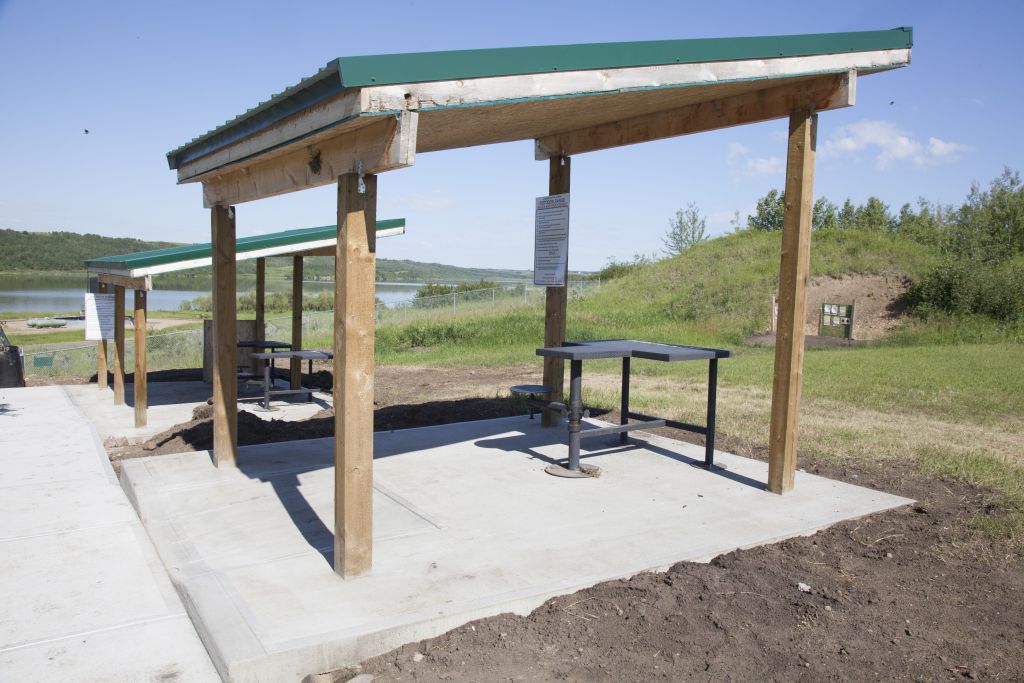 Notice to Members
Effective February 1st, 2015, you will require an active FOB card to gain Outdoor Range entry and exit.
You must have current LDFGA Membership.
Please help make this system work by ensuring that everyone is an Outdoor Range Member.
Memberships are available at Magnum Gun Outfitters, Wildside Outdoors, Prophet River Firearms and Shep's Sports Centre for $25/year. For more information, please contact Reid Ballek at 306-821-2859 or Garry Cunningham at 780-875-0578.
Irresponsible and Dangerous Firearm Use
Irresponsible and dangerous use of firearms continues to occur at our Outdoor Range. A recent bullet hole in a neighbouring oil tank; shooters regularly using solid targets such as metal or rocks; reports of the firing line not being respected are all serious concerns.
The Chief Firearms Officer of Sask. inspects and licenses our range and has certified it to be safe if it is used as designed. We must be able to ensure that no bullets leave the boundaries of the range. The berms and cave-like enclosures ensure this when used properly. There MUST NOT BE ANY SHOOTING above the backstop boards or at objects on the ground or off the range. Shooting at metal, rock or hard targets almost always results in ricochets off range. If there are complaints from area residents or continuing incidents, we could easily lose our license and be shut down.
ANY ACTS OF ILLEGAL, DANGEROUS, OR IRRESPONSIBLE USE OF RANGE FACILITIES, OR ACTS OF VANDALISM OR DESTRUCTION OF PROPERTY WILL RESULT IN IMMEDIATE AND PERMANENT REVOCATION OF MEMBERSHIP AND BANISHMENT FROM LLOYDMINSTER & DISTRICT FISH & GAME PROPERTY, AS WELL AS CRIMINAL CODE, FIREARMS ACT, AND CIVIL CHARGES. We have over 1500 members, each with the privilege of using the range. We must first monitor our own use, but secondly, monitor others who are abusing the range rules or we will all lose this privilege.
REPORT ALL ABUSES to the phone numbers on the gate or to the RCMP.

Outdoor Range Upgrades
Thank CNRL for the Berm Improvements